Understanding Ohio's Criminal Justice System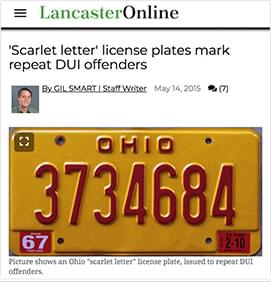 Ohio's Criminal Justice system is responsible for providing public safety by deterring and preventing crime, punishing offenders, and reintroducing those who have served their time back into the community. The criminal justice system is based on the body of laws that define crimes and offenses, and specify what punishments are appropriate for those crimes.
There are two types of crimes that are defined by Ohio State law: felonies, misdemeanors.
Felonies are usually the most serious crime. An individual that is convicted of a felony may face jail time, though that time may be spent in either a county jail, or a state prison. Felonies cover crimes that are considered both serious, and/or violent. Commonly known felonies include murder, robbery, rape, burglary of a residence, and assault. Felony punishments vary in harshness depending on the nature of the crime, discretion of the court, and the offender's criminal history. The maximum mandatory punishment for felonies in Ohio are $20,000 in fines, and 11 years in prison. Extreme cases exist where the life sentence is applicable, though these are rare in Ohio. Only in 2005 were Ohio Judges given the option to sentence extreme crimes with a life sentence. In turn, the number of death sentences from 2004 to 2007 dropped 37 percent.

A misdemeanor is typically a less serious crime, and common punishments include probation, county jail time, fines, or a combination of all three. Common misdemeanors include assault, theft, and public drunkenness. The maximum penalty for a misdemeanor is 180 days and up to $1,000 in fines.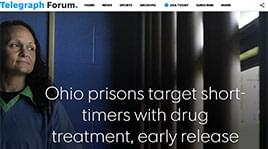 Like other states, Ohio is instituting measures to reduce prison populations. As of Dec. 2017, Ohio's adult prison population was less than 50,000 (or 444 per 100k), placing it at the 15th highest state in the union, and below the national average of 471 per 100k (placing the national prisoner population at more than 1.53 million.) According to Gary Mohr, director of the Ohio Department of Rehabilitation and Correction, "money saved through the reduction (in prison population) is better spent on programs helping needy Ohioans at an early age." The drop is attributed to to a number of new programs and initiatives put in place to keep low-level offenders out of prison, reserving jail sentences for more serious crimes.
One initiative, called "Treatment Transfer", elects to send non-violent offenders with substance abuse issues to rehabilitation rather than punish them with jail time. Due to the drug use issue in Ohio, this accounted for nearly a third of the incarceration rate. Another program allocates money to counties that house people convicted of minor offenses rather than support local jails or halfway houses. The current budget for these new initiatives is $58 million to account for the new cost for the counties.
Ohio's judicial system represents the judicial authority of the state, and like other states, is broken into both federal and state courts. These courts were established by the state constitution or by acts of the Ohio General Assembly. The Supreme Court of Ohio serves as the court of last resort, or the court responsible for hearing all appeals from lower courts. Typically, the only higher court would be the Federal Supreme Court.
The Supreme Court of Ohio was defined by Article IV, Section 1, of the Ohio constitution, but was first established in 1841. As defined, the "judicial power of the state is vested in a Supreme Court, Court of Appeals, Courts of Common Pleas, and divisions thereof, and such other courts inferior to the Supreme Court as may from time to time be established by law." In other words, the Supreme Court, as well as the Court of Appeals and Courts of Common pleas are the judicial authority in Ohio, with the Supreme Court serving as the chief authority in the state.
Ohio's Supreme Court has seven justices - including the chief justice - who face elections every two years. Only two seats are up for election every even-numbered year, and during every third cycle of elections, the chief justice's seat is up for election, as well as three of the associate justices. Justices have six year terms.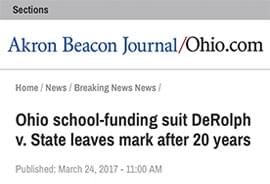 The minimum requirements to run for election are defined by Article IV, Section IV.
Candidates for justice must have attained admittance to the Ohio Bar.

Candidates must have practiced law for at least six years. This can include time as a lawyer, or serving as a judge.

Candidates must not be older than 70 years of age, though serving judges who reach this age are allowed to finish their term.

The Governor of Ohio may appoint a justice to the court if a vacancy exists. This limit often forces the retirement of long standing judges in Ohio, such as Francis E. Sweeney Sr. who was barred from running for re-election in 2004, and Terrence O'Donnell in 2018.
While the judges are officially non-partisan, practically this means that their party affiliation is left off the ballot. From November 2006, when Justice Robert R. Cupp replaced Democrat Alice Robie Resnick until the appointment of Eric Brown as Chief Justice, the court had been Republican. This happened again in 2018 when Mary DeGenaro filled the seat of Bill O'Neal.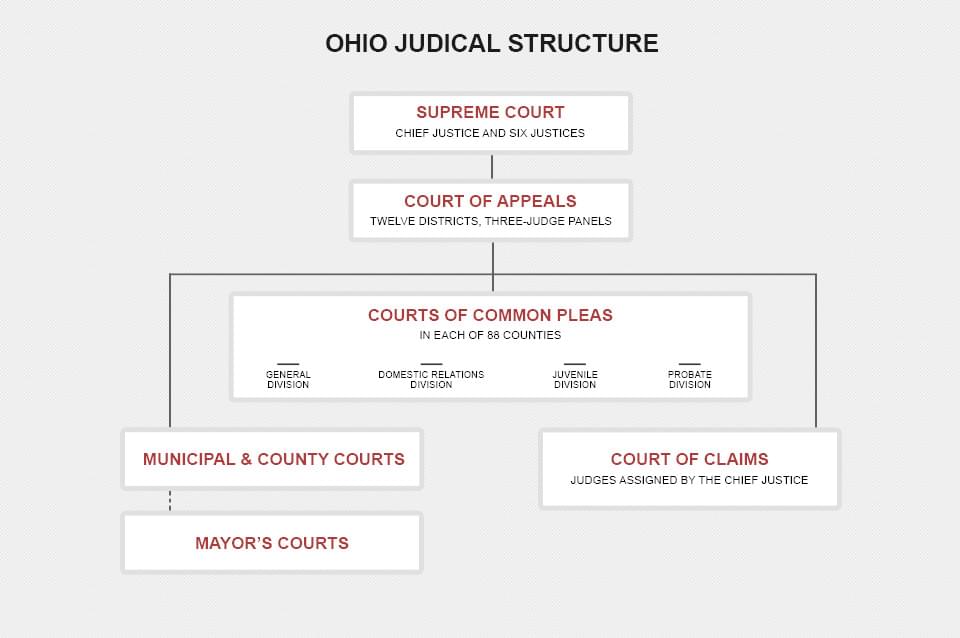 The Supreme Court makes rules governing practice and procedure in Ohio's courts, such as the Rules of Evidence, Rules of Civil Procedure, and Rules of Criminal Procedure. The Supreme Court also hold authority over admission of attorneys to practice law in Ohio, as well as disbar attorneys who violate the rules of practicing law in Ohio.
The Court of Appeals is an intermediate level appellate court, and their primary function is to hear appeals from common pleas, municipal and county courts. The state is divided into 12 appellate districts, each of which is served by a court of appeals. The number of judges in each district depends on the population of the district and the caseload of the court.
The Court of Claims has jurisdiction to hear all civil actions filed against the state of Ohio and its agencies. The court also hears appeals from decisions made by the attorney general on claims allowed under the Victims of Crime Act. Typically, this court makes decisions involving contract disputes, property damage, personal injury, cases involving immunity of state officers and employees, discrimination cases, and issues of wrongful imprisonment.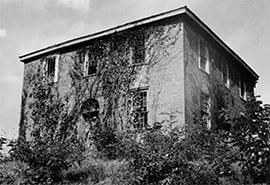 The Court of Common Pleas exists in each of Ohio's 88 counties and consists of four divisions.
The General Division, which holds jurisdiction over felony cases and civil cases in which the amount in controversy is more than $15,000.

The Domestic Relations Division, which holds jurisdiction over matters of divorce, annulment, dissolution of marriages, legal separation, spousal support, and child custody rights.

The Juvenile Division, which hears cases involving minors, or people who are under the age of 18. This includes crimes committed by minors and certain crimes committed against them, such as child abuse.

The Probate Division, which have issuance over marriage licenses, adoption papers, sanity and mental competency determinations, and eminent domain proceedings.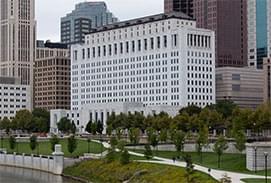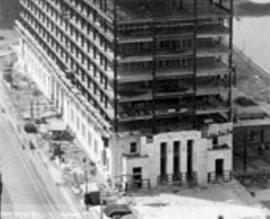 Municipal and County Courts were created as far back as 1901 in Ohio, and serve as the countywide jurisdiction, with municipal courts typically holding authority over county courts. Both courts have the authority to conduct preliminary hearing in felony cases, and both have jurisdiction over misdemeanors. Municipal and county courts hear civil cases in which the amount disputed does not exceed $15,000.
Finally, the Mayor's Courts, which are not part of the judicial branch in the Ohio government, are unique to only to Ohio and Louisiana. These courts are different in that the mayor of the municipality presides over them. The mayor does not have to be a lawyer. A person who faces conviction in a mayor's court may appeal the conviction to a municipal or county court.
The current center of the Ohio Judicial System is the Thomas J. Moyer Ohio Judicial Center.
First conceived in 1913 - though construction was held up for more than 16 years by debate - the building's initial designs began in 1929 when the city of Columbus agreed to offer 2.1 acred on Front Street. Architect Harry Hake of Cincinnati was hired to design the new office building, and estimated the total cost of the project at $5 million. This is equivalent to more than $70 million in 2018, accounting for inflation.
Construction began in 1930, though frequent labor disputes and complications from the October 1929 stock market crash halted construction several times. In early 1932, with the building nearly completed, a natural gas explosion that killed 11 and wounded 50 severely damaged the building. Windows were blown out, staircases as high as the 5th floor were destroyed, and massive bronze doors, still in place today, were torn from their hinges. One year later, after repairs with an estimated cost of $750,000 (nearly $11 million in 2018), the building stood finished.
Initially, the building housed the Industrial Commission, the State Library, and the departments of aeronautics, agriculture, commerce, education, health, highways, publiuc welfare, public works, industrial relations, and taxation. The building even served as the home of the Ohio House of Representatives while the Statehouse was renovated during the 1990s.
Finally, in 1998, the General Assembly of Ohio agreed to fund renovations of the building, changing it into the Ohio Judicial Center as it is known today. The renovations began in 2001, and finished in January 2004, with the official re-grand opening of the Ohio Judicial Center happening just one month after.
| | |
| --- | --- |
| 250 | Stimated number of building occupants |
| 11,295 | Stimated number of building occupants |
| 63 | Approximate percentage of those visitors who were students |
| 15 | Different kinds of marble used in the building exterior |
| 975 | Total number of windows |
| 24,000 | Square yards of carpet |
| 61 | Murals |
| 18 | Ohio politicians depicted in bas-reliefs |
| 4 | American Indian leaders depicted in bas-relief |
| 15 | Ohio cities depicted in murals |
| 78 | Percentage of construction materials that came from Ohio |
| 300 | Estimated number of computers when the Supreme Court first moved |
| 400 | Estimated number of phones when the Supreme Court first moved |
| 547,000 | Length in feet (more than 100 miles) of fiber cable laid during the restoration |
| 400,000 | Estimated number of books to be moved when the Supreme Court first moved |
| 415,580 | Gross square feet of building |
| 18 | Number of stories, including the ground floor, the basement and the attic |
| 3,364 | Net square feet ( 92 feet, 2 inches long by 36 feet, 6 inches wide) in Courtroom' |
| 190 | Spectator capacity of Courtroom (normal configuration + additional seating |
| 315 | Total capacity of Courtroom (posted, per code |
The oldest standing courthouse in Ohio is the Chester Courthouse, located in Chester, Ohio. Built in the early 19th century, this courthouse served for only 20 years before being abandoned in favor of a newer courthouse. In 1926, the building served as a community center, along with the adjacent schoolhouse. Only in the 1950s was the building restored and designated as a historical site. Today, both Chester Courthouse and the nearby school are open to the public as a museum.
The oldest courthouse still in use as a courthouse in Ohio is the Perry County Courthouse in Somerset, Ohio, which was constructed in 1829.